After 3 torturous weeks of mugging for exams, its finally over, my first term at MDIS. But then again, its still just the beginning la, so nothing to be really thrilled about after all i guess. Anyway, since I had the week off, until tmr, when I'm supposed to start lessons again, I figured I would thoroughly enjoy the coincidental long weekend with some long awaited luring sessions.
Not that I haven't done any fishing at all during my exams period; would've gone crazy with just mugging anyway...but just that my place here the seletar reservoir getting damn boring la..every time go also no fish bite.
And so, met up with my kaki Fred from FK forum, and we went to two separate reservoirs on opp ends of the island on saturday and today.
Start with saturday first la. Met up with Fred at CCK interchange in the morning and took a bus to kranji reservoir, where we proceeded to set up our gear and start luring. Great water conditions and all, and lots of surface action from schools of baby toman that were chasing our lures everywhere..but just no fucking bite! But anyway, Fred also really lucky la, he got this half kg peacock bass (here on to referred to as PB) on his second cast with fly, the moment we started, though after that, it was just real boring the whole morning; only managed to get myself sunburnt but only realised it when I got home.
After the actionless morning, we decided to move to the other side of the reservoir, where there was more shade and rocky outcrops, and according to Fred, higher chances to tio PB.
Turned out he was right, only five minutes after we set up and started casting, Fred tio his second PB of the day, also of comparable size to the morning one; and moments after, I kenna my first bite of the day, which was, guess what..a baby toman!
Wow, didn't know that toman also take fly one, thought they will only chase popper all this time. Must say it was quite surprising for both of us, but what came afterwards was even more surprising. As I was retrieving my fly after a random cast somewhere, there was this small school of 5 to 6 baby tomans chionging after the fly just as I lifted it out of the water. Probably this time I cranked back too fast for them to bite..but well, nvm la.
So we carried on, and around 230, I kenna my first PB..but the bugger flopped around so much just as I had it out of the water and was about to land it, it shook itself loose! Bummer. Nvm that, shortly after, our PB action started; between 230 and 430, we landed a total of estimated 15 PBs, all good size one.
Quite a good catch for our saturday trip then, so beginning to get hopeful for today trip to bedok res. But then, wake up today, see the sky so overcast also damn sian. Still, we decided to try our luck there, and when we got there, lagi sian~! Wind damn strong, water so chaotic, we cannot even see properly where our lure or fly landed! Worst of all, it was freaking cold with the rain and wind together..Even with gortex jacket zipped up, it was still bloody freezing la...and while Chong and myself got nothing the whole time, Fred, again the lucky one, managed to kenna a big one during the morning portion~1 kg plus PB, which is pretty big la, though they can grow to thrice that size no problem.
Morning portion flopped again, we headed to another pond near bedok res, supposedly full of toman according to some post on FK, but then find that the place is so full of snags that we cannot safely use hard plastic lures for fear of losing them to the snags and overhanging branches. Did get a small pull on my line once, but as it was kinda weak after all, didn't even realize that a toman (probably a small one), had bitten off the tail portion of the rubber lure I was using.
So we sua back to bedok res, and I suggested to try the illegal spot all along the edge of water, since morning we had nothing at the jetty, so kinda desperate liao la. Here, Chong's first cast almost kenna a goalkeeper (freaking fish jumped out of water to snap at the lure), but its was quite pak jiao, so didn't managed to hook it in the end. Not sure if it was a PB or toman, but we were sure there were fish here, so immediately got to work casting..and again, we got disappointed by the end of the day, having nothing to show for our last 2 hrs at bedok res, only witnessing certain surface action from schools of baby toman feeding near shore, but just did not manage to piss off their parents enough to bite our lures.
Towards the end, when we were about to pack up, there was suddenly this PB bigger than what Fred got in the morning swimming around right in front of us searching for food. Try as we might, it just would not take the lure or whatever else presented right in of it. TMD..fish also so choosy.
So that ends the tale of two reservoirs. Verdict: Kranji res is quite promising and worth going again in time, but bedok res? really think twice about going there again. Hope next saturday Ubin trip will be better la.
Pictures below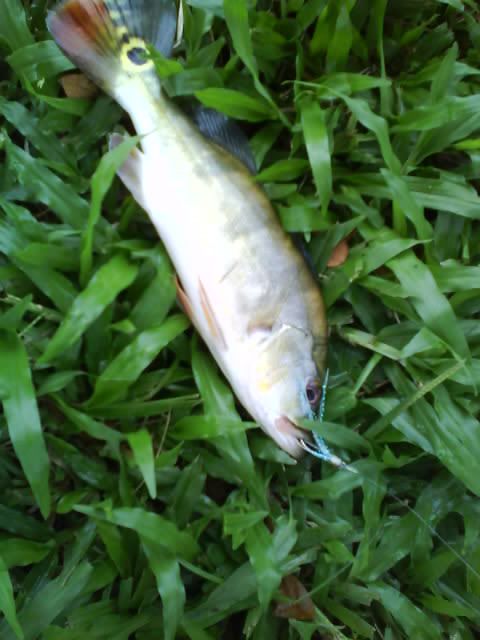 First PB on homemade fly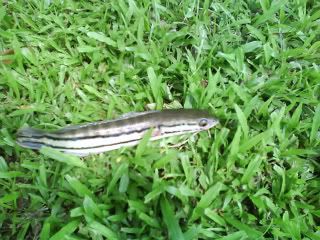 Surprise baby toman landed on fly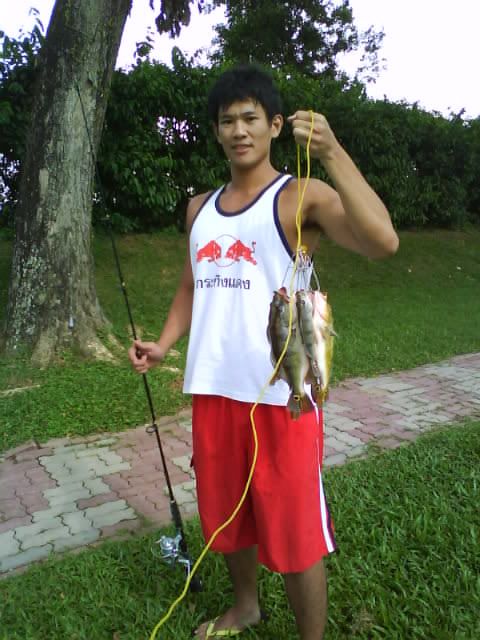 PBs!
PBs ground shot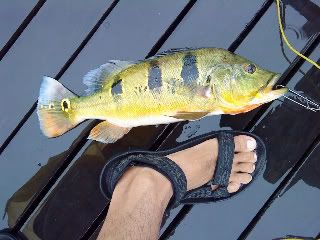 Fred's 1kg PB at Bedok res, ~ the one and only of the day
i haven't gone fishing in forever.
ever since my dad got so pissed off in the hot weather on a pier trying to help my cousins & i with the rods & stuff, hahahaha! we were young, we didn't know. it sucked.. one day ill go.. & hopefully ill know what to do.
»
ShaShaBoo
on 2008-12-13 12:39:58
Sorry, you do not have permission to comment.
If you are a member, try logging in again or accessing this page here.