Not sure if anyone ever wondered why all my entries are so long-winded and got sick of it, but anyway, I'm back after neglecting this space for just about forever, due to the usual suspects of not enough time, overwhelming workload, school and personal life.
Well, not that anyone really reads this stuff at all, or rather should I say ,that and a mix of my own lack of enthusiasm/ motivation to put events into words here resulted in this long overdue update of my boring or not-so-boring life (depends on perspective i guess, hah).
So what brings me to blog then now, on a Sunday morning with great weather when I should be out fishing? Due to certain circumstances, I'm actually damn free la, but eh..I'll get to that later.
First on the menu, SP 05 Marketing Graduates Gathering cum Networking Session, or whatever its called.
I kind of ignored this thing when I got it in the mail, if it was even in the mail, that is, can't really remember that well now, must be the age catching up, haha. Only when WX texted me abt it did I start paying mild attention to it, and subsequently, found out quite a few of my old classmates from SP will be attending it when I logged onto facebook, another place where I hardly visit anymore.
Anyway, to cut a long story short, the gathering came and went two nights back on Friday, 6 Feb, 2009. Was boring at first, when the image consultant woman and really borrrrred-looking MDIS guy was talking their piece, but soon got refreshing enough when we adjourned out of the lt for food and some catching up with ppl of yester-years.
Unfortunately, there were still ppl who I'm not too fond of now or even back then, but well, fuck them. I wasn't even there to look at their shit faces, more importantly, I did have fun catching up with those old friends, engaging in the mutual dissing and stuff, hah. So overall, it was still alrite enough.
Moving on, I finally made my way down to beach road yesterday to get my new set of luring tackle!
As expected, Huan aeroplaned at the last minute after yakking all week long on how he wanted to join me at beach road to get new fishing stuff. Even though I'm already way used to his shit antics by now, I was still really angry at first cos my morning schedule got messed up because of him. But then, I decided to go to beach road alone, having done enough research on my own the past week and knowing what I wanted, I did manage well enough on my own in the end.
After dilly-dallying for close to 3 hrs along that 500m stretch of shops, I finally got my stuff.
Rod - Shakespeare Contender 6 foot, light-medium action, 2 pc.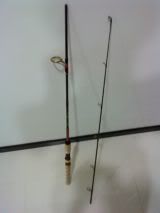 Reel - Shimano Aernos XT 2500, spooled it with SpiderWire Code Red braid, 15 lbs, and it actually looks pretty cool.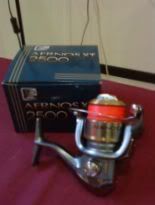 Reason why I spent so much time was because I couldn't find any of the reels I had pre-selected in mind. Either they did not have the right size, was out of stock, or way out of my budget! Damn irritating.
Got some new lures to match my new setup along the way and also some new coloured threads for my DIY flies and that was about it.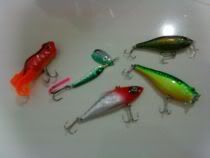 All in all, everything was well within my budget, which was great, but it was just really tiring to keep walking up and down comparing prices and shit, but still, very satisfying at the end of it all.
Alright, if your eyelids are still not folded at this point, I must applaud your persistence to carry on reading this mundane stuff, but still, bear with me, I'm almost done here, promise.
And so I was damn enthusiastic to try out all my new stuff, woke up like 630am today and made my way down to my favourite PB and toman hunting ground. Made like 20 or so casts, quite satisfied at the performance of my new setup, and decided to move to some other more productive spot, in my continued search for my fishy friends.
Next thing that happened was I slipped and fell into a pot hole right next to the long kang, and end up cutting up my shin damn bad, bleeding like a sacrificial pig. All this because I wasn't paying attention to the path, had on my suicidal slippers(or so my gf calls them, ever since I fell on my butt the last time I had them on), and just damn suay la. NB!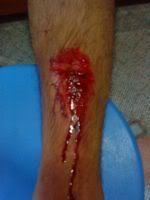 Initially wanted to carry on, bleeding or not, but couldn't as the wound was swelling so bad I couldn't walk properly, so in the end had to slowly limp home and take a cab to the clinic, where they bandaged it up, in the process making my leg look like it had fucking hump on it from the side profile, and gave me a shitload of meds to take for the injury. WTS eh...
Finally, this brings an end to my really long-winded entry and update of my life. Thank you for your attention kind reader(s).