Been 2 months since I had to stop fishing due to my leg injury. Although its still not completely healed yet, I've finally been able to start fishing again. And the result? shiok!
Went to my favourite spot last weekend, yesterday and today. Only managed to land one PB about 1 lb plus. But it was monumental, as landing this fish marked the "breaking virgin" for my new rod, reel and lure, ever since I bought the setup 2 months ago, and injured my leg on the first session using it. Had a few hits and misses after that, and that was about it. But still, as the fight was pretty good (2 aerial displays by the fish), it was overall a satisfying session.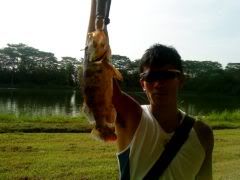 First fish ever on new setup!
Move on to this week's exploits. Had a surprise catch on lure yesterday morning at my favourite spot again. Was twitching and retrieving my Yozuri crystal minnow as I normally do after casting, when suddenly, I felt a strong pull. Gave it a solid hook set, and, fish on! Freaking bugger went left and right and put up quite a good fight, had me thinking it was a PB, but came up, surprise, its an orh peh! Not sure what its called in english, so just leave it at that. Although I had heard of ppl landing orh peh on lure, but it was due to foul hooking; thus, I was pretty much surprised that this particular one went for my s-minnow. Must have been starving I guess, heh.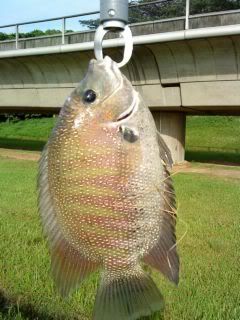 hungry orh peh
Off to another spot in the central for afternn session, but very disappointing. Whole 2 + hrs only got 1 baby toman. And that was towards the end of the session, when I was too tired to twitch my rod, and just switch straight retrieve with my spoon-fly-jig combo. Somemore the bugger shook himself loose in about 2 seconds after I landed it and rolled back off the slope into the water before I could take his mug shot.
Nvm about yesterday liao, today was damn happening. Although I woke up abit later and only managed to start at 8am at the favourite spot, before I left for lunch at 11plus, had a total of 6 hits, 3 landed, 2 shook loose and 1 miss. The first one was a 1 lb plus peacock, which also happen to break virgin for my ima sasuke-look-alike suspending lure.
PB staring stupidly at the lure that faked him
After that fish, I moved around and continued casting, got 1 hit, but didn't managed to set the hook in time cos I wasn't paying attention. Dunno why, I just suddenly thought of using popper instead of my suspending lure. First fish that went for it was a bloody retarded and pah jiao toman. Twice in split second I saw it try and whack the popper and both times it missed! Wtf...I was abit tu lan liao, but I just kept casting with the popper ard the whole area, when suddenly, I felt a strong pull, and my reel starting screaming. Line went out for a few seconds, before I managed a solid hookup and start fighting the fish. Damn good fight, from the way it rushed left and right, I could already tell it was a PB, and I kept pumping my rod high, waiting for it to give a good aerial show, but it never did. And when I landed and lip-gripped it, turned out to be around 5 lbs, biggest PB that I ever landed! And this also happened to be the first time I had PB on popper too, and it was yet another virgin lure also! lol.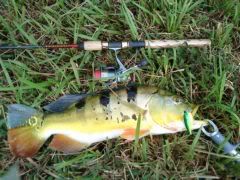 5 pounder!
After snapping pictures of my personal best size PB, I quickly released it back and continued casting the popper. Within minutes, "Bam!" Another fish on! Thinking it was a toman this time because of the explosive strike, I fought it as normal, but in the end it turned out to be another big peacock, which unfortunately, I didn't manage to land this time, even though it did not put up that great a fight, it managed to throw the hook and shake loose when I had it close to the shoreline.
Changed to my battle proven Yozuri crystal minnow after that, and on the second cast, goal keeper! Another big peacock that put up a good fight, and when landed, weigh in slightly lesser than the previous one, at ard 4.5lbs.
Managed to find someone around this time to help me take picture with the fish.
That was about it for the morning session, after lunch, I went to the nearby tackle shop to pick up 2 small poppers for targeting toman since my kaki and me were heading to another toman only spot for the afternoon.
When we reached there, was damn hot at first and I wanted to move into the shade, when suddenly my kaki Fred called for me to come back, saying a school of baby toman was moving in chasing his popper. I went back just in time to see him land a respectable size baby after a very short fight. Now the frenzy start liao.. I started casting and both of us hit and missed countless baby toman that were all around and chasing our lures like mad. I managed to land 4 mini-me size babies, but never take picture. But after a while, did get a more respectable size baby toman.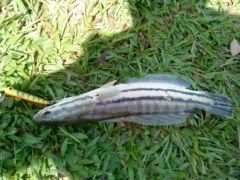 Baby toman on new Storm chug bug. Just bought only!
So the babies were all around; at one time we could almost see at least 2 to 3 schools swarming around the area, but their parents were no where to be found, which was weird, as toman are very protective of their young. Anyway, we just kept casting and moving along the shoreline until it started raining, so we took shelter in a shed somewhere until it stopped and continued for 45 minutes or so before calling it a day. And I had another miss on my Yozuri surface cruiser by another pa jiao toman..fuck.
But nvm, all in all, today is the most satisfying luring session I ever had in a long time, I landed the 2 biggest PB of my personal record and also had countless memorable strikes and misses and lots of fish. Not to mention that I also managed to have 4 lures break virgin, all in one day, and 2 of them just newly bought on the same day even!
do u eat them?
»
renaye
on 2009-04-12 08:26:16
nah..strictly catch, photo, release. anyway, they don't taste good either, being freshwater and all
»
HellSinG
on 2009-04-14 12:08:05
wah the second last one looks huge. haha seems like you're pretty into this fishing hobby thingy
»
Koban
on 2009-06-08 05:22:46
Haha yeah i am...but now also can't fish as much with exams coming all..lol can't wait for them to end even before they start
»
HellSinG
on 2009-07-03 12:30:38
Sorry, you do not have permission to comment.
If you are a member, try logging in again or accessing this page here.